Custom Millwork for your Connecticut Business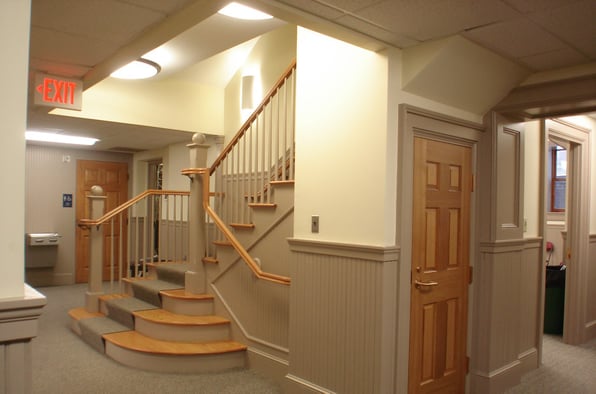 Nothing makes a statement about your firm and what your business represents than well detailed and quality millwork in your commercial office space. The timeless quality of wood mouldings and details adds warmth and character to a commercial space. For the comfort of your customers and the reputation of your business, integrate custom millwork into your upcoming commercial construction project.
Custom Built Wood Styling, Crown Moulding & Trim
If you're looking to add elegance to your New Haven County business from the moment you walk in, custom millwork is a great choice that offers timeless elegance through the years.
The old-world style that comes from crown moulding helps to elevate your business to an all-new level. Drawing the eyes upward, crown moulding adds height and depth to interior spaces. Perfect for restaurants, cafes, libraries, and doctors' offices, crown moulding subtly comforts and relaxes visitors and patrons.
Integrating the latest audio-visual technology into corporate board rooms and conference rooms along with timeless custom wood details is the latest craze as companies work to set their product and service apart from the masses in any particular industry. Setting the tone for clients with well-designed and detailed facilities allows companies to raise the bar on quality products and the highest level of customer service.
Trust Litchfield Builders for all your CT Commercial Millwork Needs
Nothing impresses clients more than the timeless details of a custom wood work, panelled walls and architectural details. These are the attributes of high-end corporate facilities that can be integrated in any office location if designed and detailed appropriately.
With over 20 years in the industry, Litchfield Builders has earned a reputation for consistently designing detailed work spaces to fit the functionality, space and budget needs of your management and staff.
To find out more about how Litchfield Builders' custom millwork can change your commercial property, fill out the form to get in touch with us today!