Transform your Connecticut Kitchen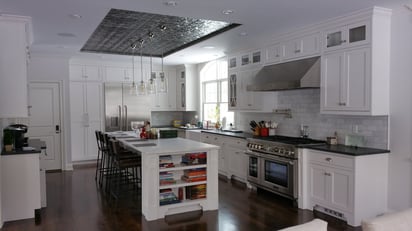 Your kitchen is the heart of your home, and the right kitchen remodel can help transform your outdated Connecticut Kitchen into a space that's completely your own. Whether you're just updating appliances or renovating the entire interior, we'll help you understand your options available, and how they will affect the overall cost of your kitchen remodel. At Litchfield Builders, we stay up to date on all the latest kitchen remodeling trends, materials, styles, so we can help you find the right look for your kitchen. Some of our most popular Kitchen Remodeling Services Include:
Custom Cabinetry & Millwork
Kitchen Bump-Outs
Countertop Installation
Kitchen Backsplash
Flooring & Lighting
Plan your Kitchen Remodel the Right Way
We work closely with our residential clients to design a kitchen the right way from the beginning to end. We take you through the entire process step-by-step to ensure you're satisfied with final product of your kitchen remodel.
Assess your needs and establish the appropriate kitchen remodeling budget.
Discover and determine your desired kitchen layout with practical designs.
Plan out your cabinets and the appropriate countertops
Plan and schedule your project to make your dream kitchen into a reality.
Trust Litchfield Builders for your CT Kitchen Remodel
You want a kitchen that expresses your taste and exemplifies your style, so pick a general contractor you can trust for your kitchen remodel. With over 25 years of experience, Litchfield Builders has the skill and experience to turn your kitchen into a room of warmth, comfort, and beauty. If you're ready to build your dream kitchen, fill out the form on this page to reach out to us today!